Devour! Osoyoos is coming soon! We're so proud to be a sponsor of this fantastic festival.
The sights and flavours of Devour! Osoyoos perfectly exemplify all that makes food, wine, and film so appealing.
The winemakers and chefs that will be showcased during this highly-anticipated event are all unique and amazing. We'd like to let everyone get to know them a little better.
We've started a series that highlights each of the participating Similkameen Independent Winegrowers. In the true spirit of our down-to-earth, welcoming region, the winemakers and proprietors have answered a variety of questions –from quirky to sincere. Their answers may surprise you…
We hope you enjoy learning about these dedicated and talented folks as much as we have!
---
Winery Name
Winery intro.
---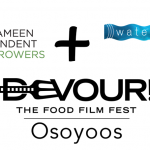 Owner/Winemaker:
What path led you to a career as a winemaker?
If you were a wine, which wine would you be?
If you could only drink one wine for the rest of your life, what wine would it be and why?
What is your greatest passion?
What might people be surprised to learn about you?
What's your secret food craving?
What's your favourite food to eat while watching movies?
What is your favourite grape, and why?
What drives you?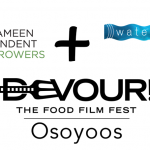 If you couldn't do this, what would you do?
What is your favourite South-Okanagan/Similkameen activity?
Describe your dream meal:
What is your favourite food or wine film, and why?
---
Winery Name
Address, Town, BC
(250)XXX-XXXX
linked web address
---
Watermark Beach Resort is very pleased to offer a special package rate for Devour! Osoyoos. Visit us for more information, including event tickets and schedules.