Pet-Friendly Hotel
Watermark Beach Resort is pleased to welcome your four-legged canine friends.
Our pet-friendly location is close to walking trails and a doggie beach for some great swimming, walking or fetch. To ensure Bowser truly enjoys his vacation, dog treats and a welcome packet are provided upon arrival. To ensure our team can prepare your room for your pet's arrival, please notify your Reservations Agent when booking.
The Town of Osoyoos and Watermark Beach Resort welcome your furry canine friends. There are 6 popular dog friendly areas and parks where you can take your pet for exercise, socializing, swimming and fun! Clean-up bag dispensers and garbage cans are located at each of these locations and in parks and trails throughout Osoyoos.
Pet Policies
Pet Charge
An additional pet guest fee of $30 per night (to a maximum of $180 per stay) is charged if your pet travels with you.
Leashing
Your dog must be kept on a leash while outside your suite.
** Notice – During June, July & August, pets are not permitted on the beaches & parks in the Town of Osoyoos. Designated pet swim area is located 1 block away from the Resort beside the Osoyoos Museum**
In the Room
If you must leave your pet unattended in your room, we request that they are kenneled. The owner is responsible for the cost of replacement, repair or cleaning of damages that may occur during your stay. There is ample green space for your pets to do their business. It is mandatory to pick up and dispose of any waste immediately.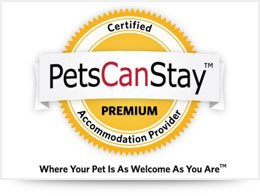 Pets Can Stay Certification
We have exceeded their strict criteria for certification by providing exceptional pet amenities and services.
By choosing Watermark Beach Resort, you are choosing to stay at a resort that has distinguished itself as a member of a unique group of accommodation providers who cater to the travel experience of the pet-toting traveler.