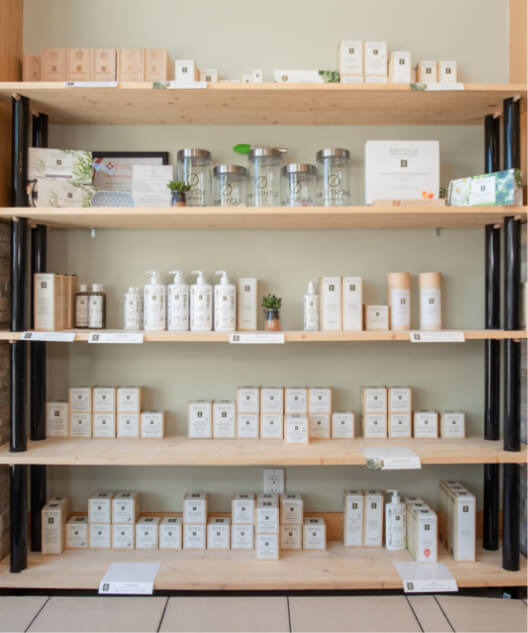 Discover friendly Osoyoos and our associates in the Watermark community.
There's more to Watermark than the resort! Our beautiful grounds house a number of businesses to make your stay more convenient (and relaxing). A short stroll from your room brings you to the spa, restaurants, and gelato attached to the resort. Take in the gorgeous view of the lake and mountains as you head for a day at the spa, a delicious meal, or a taste of some delectable gelato. The Watermark community works together to make your stay as refreshing as enjoyable as you could imagine.
15 Park Bistro
Experience a celebration of culinary excellence within an atmosphere we call casual, modern sophistication. 15 Park Bistro has a passion for showcasing local ingredients with unforgettable fare designed by our talented Chef Nick Atkins, paired with hand-selected local vintage. Dine-in lakeside, or get takeout for your suite today.
Levia Wellness Spa
For the ultimate indulgence, book a treatment at Levia Wellness Spa. The caring, trained staff at the spa create an ultra-relaxing experience for you with their attention to detail, nurturing focus, and unique treatments.
Levia's restorative processes are designed to rejuvenate both body and soul through the use of fresh botanical herbs. Carefully crafted blends of fresh herbs and natural minerals help bring your body and mind into alignment. You'll find a quiet spot to refresh and reinvigorate yourself at the tranquil Levia Wellness Spa.
Roberto's Gelato
For a special treat, visit the longstanding Roberto's Gelato for authentic gelato in a rainbow of flavours. Creamy, refreshing gelato makes an outstanding bite after a day in the sun. In addition to classic flavours such as chocolate mousse, Madagascar vanilla, and stracciatella, Roberto's often features exciting tastes like chai, speculaas, honey lavender, and pumpkin pie.
In addition to their delicious sweet offerings, Roberto's also serves cappuccinos, espressos, lattes, and hot chocolates. You can also request specialty dishes, including affogato, gelato shakes, and sorbetto smoothies.
Boston Pizza
The casual, family-friendly environment of Boston Pizza creates a welcoming place for you to relax and enjoy classic Canadian cuisine. Pizza, pasta, and shareable appetizers offer options for everyone in your party. The restaurant's attached location can be reached through the resort for added convenience.
Boston Pizza offers dining room, lounge, and patio seating. Fire features outside allow you to enjoy the beautiful view while staying cozy, and draft beer and TVs inside make the lounge a great place for some sports-focused relaxation.