Isn't every day a food day?
For those who are passionate about growing, sourcing, and creating the freshest dishes, it is.
(Not to mention those of us who eat those dishes, too!)
Chef Adair Scott, executive chef at Watermark, is one of those passionate foodies.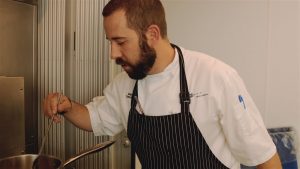 Chef Adair believes in the power of food. Growing up on a farm in northern BC, he learned early on just what bounty our Canadian soil can provide.
An ardent supporter of the seasonal harvest, Chef Adair knows that the best food experiences have an essential ingredient: the story. How did that food get to the plate? Who's hard work, passion, and bright innovation brought those ingredients to life?
There are so many elements to Canada's food story, and they can all be found in the microcosm of the South Okanagan. It's what drives Chef Adair: nature's abundance, which varies so deliciously from region to region; incredible flavours; our long history of ethical agriculture; our inventive culinary ideas.
From seed to fork, food is transformative. Chef Adair appreciates everything that defines Canadian cuisine, on Food Day, and every day.
Follow Chef Adair's culinary journey.
Food Day Canada is the country's largest collective potluck!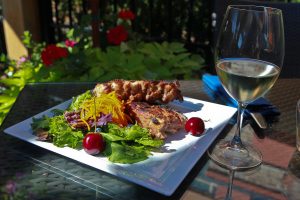 The brainchild of award-winning cookbook author and Canadian food advocate, Anita Stewart, CM, Food Day Canada honours the very core of this country. What sustains Canadians? What our farmers grow and produce, what our waters and forests supply, and what comes from each of our kitchens.
Stewart started Food Day Canada to recognize our country's outstanding culinary history and our significant contributions to global food security.
Food Day Canada is a reflection of everything that makes us a world leader: it celebrates our extraordinary cultural diversity, our unique regional character, and our spirit of community.
Participate in Food Day Canada at Watermark Beach Resort this August 4th.
Enjoy Chef Adair Scott's inspired regional, seasonal dishes, or buy local ingredients from the South Okanagan's farmers, foragers, and fishers to prepare on the bbq or in your suite kitchen.
Share your contribution to Canada's most delicious party on social media: @foodday, @FoodDayCanada, and with the official hashtags, #FoodDayCanada & #CanadaISfood
For more ideas, check out these suggestions from the Food Day Canada team:
How to Put Canada on the Menu!
Shop Like a Canadian! – Check out this patriotic shopping list.
Cook Like a Canadian! – Discover tantalizing True North recipes.
Share Like a Canadian! – Snap some photos of your local foods, drinks & ingredients and post on Twitter, Instagram & Facebook. Then, watch our Canadian story unfold as your posts are added to our national culinary scrapbook, A Food Day in the Life of Canada.