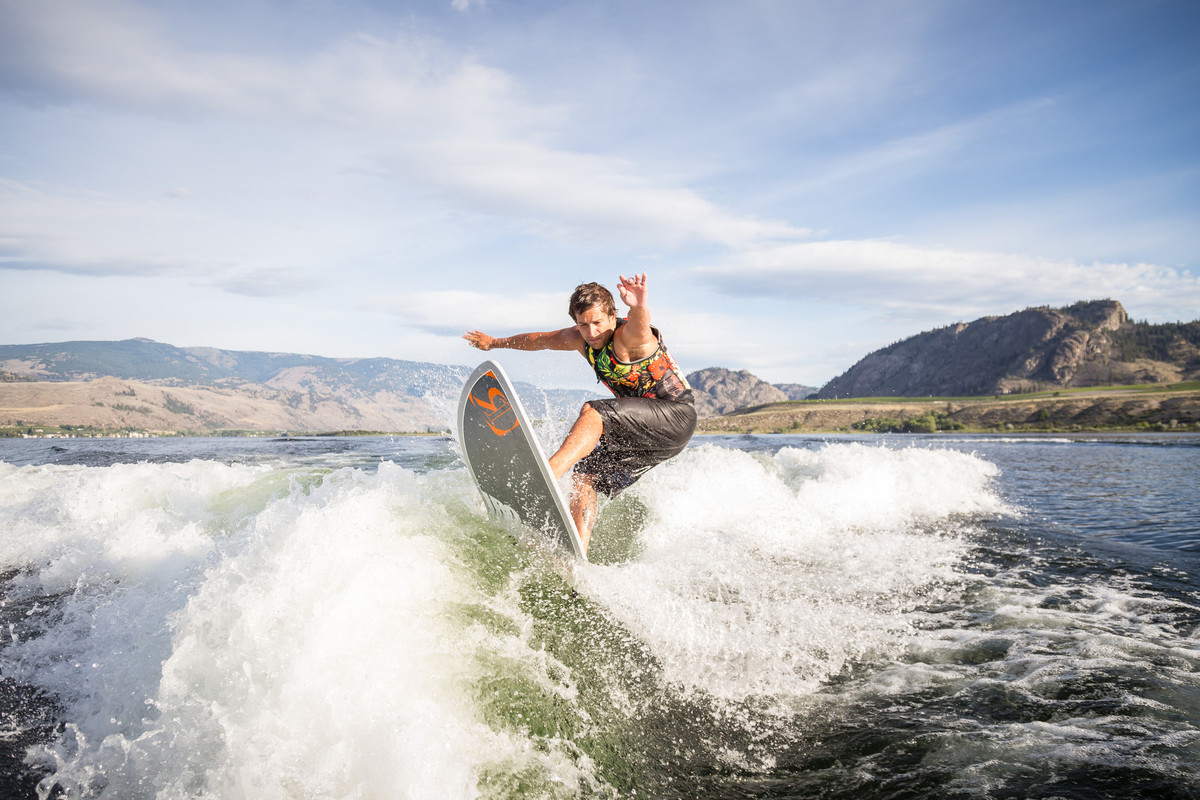 MakING the most of Summer in the Land of Ing
There's so much happenING down here at the Beach this season!
Ready for your summer escape? Weekends at Watermark are filling up fast –because summer in the South Okanagan is filled with fun!
Coming down to play with the little ones? Making it a besties' getaway? Just need a little alone time with your partner? This is the perfect place for you.
Here's a little sampler of the excitING things going on around us.
---
WineING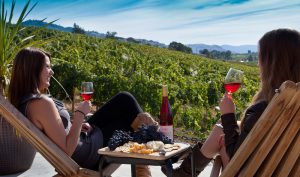 The Okanagan was recently named the top wine destination in the world!
That's right, we're number one. More than 40 award-winning wineries and craft cideries are within an easy distance of the resort. Grab a map and go explore, or have our Watermark concierges arrange for a guided tour with some of the best wine tour companies in the region.
By bike, by car, by (air conditioned!) shuttle: no matter how you get around, you'll be sure to clink your glasses to an unforgettable and unique wine experience.
At the end of the season, locals and visitors alike get in on the wine action at Oliver's beloved Festival of the Grape. This wine-themed event has everything from an artisan marketplace to anyone-can-play grape stomping competitions and –of course– plenty of tasting. There must be wine tasting…
EatING
We know the grapes grow well here, but so does…well, everything else!
The fertile hillsides and valleys around Osoyoos grow some of the most sought-after produce in the country (and beyond; our cherries are world-renowned). Fresh farm stands line the road in the summer. The juiciest of peaches and nectarines, still warm from the orchard sunshine. Buckets overflowing with ripe red cherries. Just-picked field greens and sweet summer tomatoes. Is your mouth watering, yet?
Really get into the gourmet groove with Watermark's Canadian Signature Experience, that includes a farm tour and an incredible wine-paired dinner.
At 15 Park Bistro, our superstar executive chef, Nick Atkins, turns out innovative dishes made from only the freshest seasonal ingredients sourced from local sustainable farms, indigenous fisheries, and organic bakeries, or foraged from the bountiful surrounding landscape! As you can imagine, our summertime menu is unparalleled.
WaterING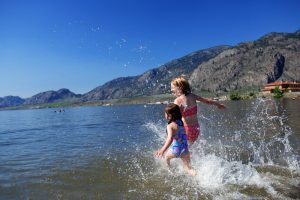 Osoyoos Lake is the warmest lake in Canada, but it's still cool enough to be the perfect counterbalance to our desert sunshine.
Ready to refresh? Go jump in the lake. (We mean that in the nicest possible way!)
Go for an old fashioned swim from the end of the dock. Grab a fishing rod and head out to catch your own dinner. Take a sunset cruise.
Relax on the sandy beach or in the leafy waterfront parks (let the kids run amok at the Jack Shaw Gardens splash park). Take a contemplative paddle around the lake (rent a kayak or paddleboard from Watermark's guest services desk).
Or just do nothing: hang out at the private lakeside pool and hot tub right here at Watermark. Kids love the waterslide and family hot tub (let's be honest, adults love the waterslide, too), and grown ups appreciate the adults-only hot tub and the Poolbar, open from 12-7 every day.
Want something splashier? Jetskiing, waterskiing, wakeboarding, parasailing, and speedboating are all popular watersports, around here! Our concierge can connect you with several local rental companies, or take advantage of Watermark's exclusive rates and dedicated boat slips at the Osoyoos marina when you bring your own boat down.
GolfING
Grab your clubs and go! The South Okanagan is home to four exceptional and unique championship courses. From stark desert landscapes to verdant hillsides to endless views across the lake and mountains, you'll swing and drive on greens here that you can't find anywhere else on earth. Play them all, and get a feel for the diversity (and awe-inspiring beauty!) of this Canadian paradise.
HikiING, BikinING & RidING
Get a little exercise and indulge in our natural environment. Numerous hiking and biking trails, catering to all levels of expertise and energy, wind throughout the valley. Try an energetic power walk around the lake, or have a picnic lunch at the top of Anarchist Mountain. Learn about the environmental history of the region with a tour of the Osoyoos Desert Centre, then climb Mt. Kobau to see it from another perspective. Take a unique bike tour of this beautiful area, or sign up for a horseback trail ride, and view things from on high (horses are tall!) as you meander through the beautiful local hills and beaches.
However you choose to explore the amazing South Okanagan, make sure to bring plenty of water and wear sunscreen. Now get out there!
CharmING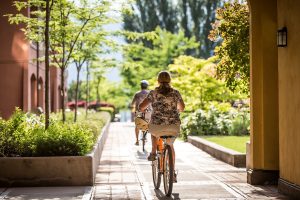 Despite boasting world-class amenities and attractions, Osoyoos is still rooted in small town charm. Arts, culture, shopping, and friendly faces abound, here!
Steps from Watermark's front door, discover the timeless atmosphere of Main Street, with eclectic shops, cool cafes, and the Art Gallery. Up the beach, you'll find the small-but-captivating Osoyoos Museum, which showcases local life in the days of the pioneers. And the air sounds sweet every Friday night with Music in the Park at the Gyro Beach bandshell –everyone comes out to move their feet at these great community concerts.
Farther afield, discover the history of our local First Nations at the exceptional Nk'Mip Desert Cultural Centre, or delight in the quirky and amazing miniature world that hides inside a nondescript industrial building at the Osoyoos Desert Model Railroad. And it wouldn't be summertime without some local ice cream! Grab a cone at Roberto's Gelato, and head to the beach for a classic hot-weather cool-down.
---
Sunshine, flavour, and so much to do! That's the name of the game here in the South Okanagan.
Start plannING your Watermark summer adventure, now. Contact us to make your reservations. We can't wait for you to come out and play!