What's red and white, and enjoyable all over?
The 71st annual Osoyoos Canada Day Cherry Fiesta!
Celebrate the amazing South Okanagan at the region's oldest continuously-running festival!

The action takes place right on Watermark's doorstep.
This annual community party highlights Canada's beautiful heritage and the many cultures that call Osoyoos home.
Satisfy your sweet tooth with the Rotary Club's fundraising pancake breakfast, then head to quaint Main Street, which will be closed for the always-fun parade.
Join thousands of spectators gathered to watch the show! Talented local dancers showcase a range of styles ranging from Bhangra to Hip Hop. Get your own feet moving to the varied sounds of the parade, including Highland bagpipes and colourful mariachi bands. Wave to local merchants and dignitaries as they march with colourful costumes and floats. Cool down in this desert heat with a community water fight (with a little help from the local firehouse!).
After the parade, head to the other side of the resort. Gyro Beach is the place to be for all of the lively music and family fun! Games, contests, and live music throughout the day, mean the beach will be buzzing with free activities all day long.
Musical acts and dance performances on the Gyro Stage. A taste of local flavour and creativity from the many food and arts vendors. And plenty of opportunity to (celebrate) the Fiesta's namesake fruit.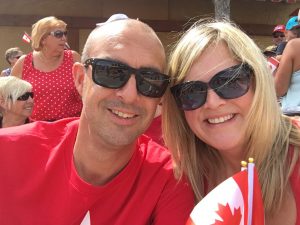 The world-renowned Okanagan cherries are at their peak this time of year! Test your skills at cherry pie-eating or cherry pit-spitting. Or simply enjoy the taste of fresh-picked varietals or always-delicious cherry-flavoured delicacies.
In the mood for something a little more savoury? Choose from not one, but two beer gardens! What goes better with a Canadian summer than a cool glass of lager? The Elks and the Osoyoos Legion are both ready offer you a little grown-up refreshment.
At 10pm, tune your radios to local station CIRO 106.5 for a live broadcast that provides a perfectly-paired soundtrack to the Canada Day fireworks over the lake. This is one of the largest fireworks shows in the country!
It's no wonder the Cherry Fiesta is the champion of Okanagan summer celebrations. At Watermark, we're in the heart of the excitement. Book your stay for the festivities and so much more! (And don't forget your red shirt.)
Hoping for a smaller-scale celebration?
Join us at 15 Park Bistro!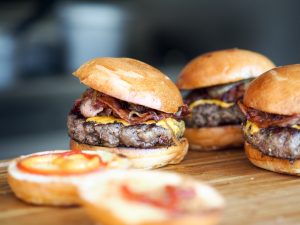 Our award-winning eatery will be open on Canada Day for breakfast, lunch, and dinner.
We'll be making a mouth-watering nod to Canadiana with our lunch specials, including classic cheeseburgers with smoked bacon and caramelized onion jam, and an Okanagan valley taco trio!
It's a delicious way to show your Canadian pride. Enjoy your holiday meal with friends in summer sunshine –on our lakefront patio or poolside.