Make the most of your Watermark Beach Resort escape this season with our sought-after Chef's Table dinner.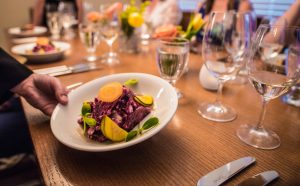 We pride ourselves on serving innovative meals made from the freshest local ingredients. The South Okanagan is full of dedicated and talented growers and producers who stock our kitchens with their amazing fruits and vegetables, meat and cheeses, wines and ciders, and more. Guests at our Restaurant are always thrilled with the incredible flavours they discover on their plates!
But allow us to take this dining experience one step further…
At the end of a day spent exploring this beautiful region, what better way to celebrate than with a little bit of pampering? Your body will appreciate the hot tub and the extraordinary treatments at the Levia Spa, but it's your tastebuds that are in for the most satisfying surprise.
It doesn't get more farm-to-table than this!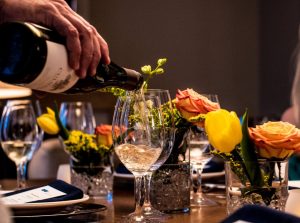 Spoil yourself (and your favourite guests) by bringing Executive Chef Adair Scott's talents into your own suite kitchen. You'll have a front-row seat as Chef prepares a memorable and mouth-watering 4-course meal just for you. An ever-changing menu influenced by that day's harvest, served by the very (adept!) hands that created it? Incredible.
And remember that Watermark is right in the heart of wine country, which means that the fertile Okanagan soils that cultivate such flavourful produce also impart their distinct character on our grapes. Enhance your meal with expert local wine pairings by our executive sommelier, Ron Rocher. Want to hear the captivating stories behind the bottle? Invite him to join you for the evening (hey, you're pampering yourself, right?).
Take a Fall Break at Watermark this season. There are so many ways to enjoy our beautiful region, you may as well do it right. The Chef's Table is the tastiest one!
Go ahead, you deserve it.
---
Ready to treat yourself to an unforgettable culinary adventure? Book your Watermark Chef's Table package, today!