A Guest Post by Skye Schutte
The Schutte Family
Watermark Beach Resort has quickly become our family's favourite spot to stay. It checks ALL the boxes off what we were looking for and what makes for a family fun vacation! Our summer plans every year include visiting this resort because honestly, there's just nothing like it. We love Osoyoos and the lakeside, slow-living feel to the city that it has but yet all the amenities and adventures of a big city!
Now, I feel it's best to break it down as to why we always choose Watermark to stay and from whose perspective it's coming from.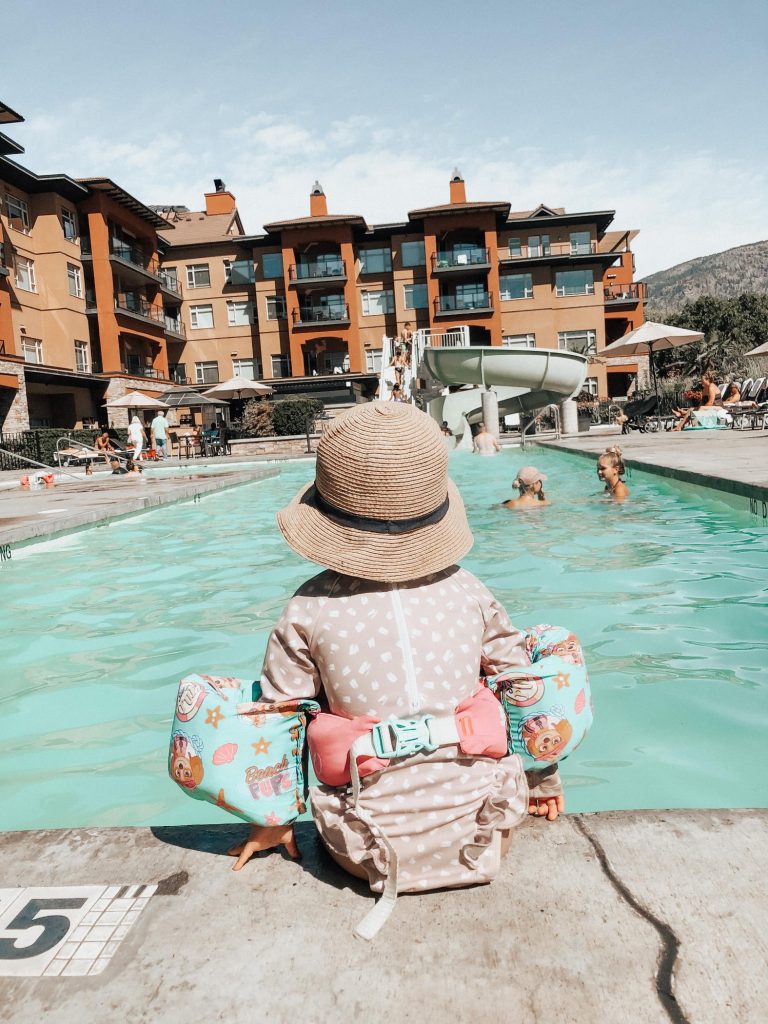 From the mother's perspective
First and foremost I believe that a mother only has a great time if her children are having a great time! And it goes without saying that when you combine a waterslide + children, you get yourself some happy little campers! So we were all having a blast! I personally loved that while my husband and I were poolside, the last thing my children were was bored. We estimated that they probably climbed over 100 flights of stairs going up and down the waterslide! They had such a blast and us parents could just sit and relax in the glorious sunshine and watch the joy on their face over and over again.
I also loved Watermark's location which is situated right on the water. We could so seamlessly do a beach day in the morning and switch to the pool in the afternoon. It's so hard to find a location that offers both an incredible pool AND beachfront access! It provided variety in our days while staying there which was really nice.
From my husband's point of view
One word. GOLF. He loved how close it was to the most pristine golf courses that Osoyoos has to offer. He loved sneaking away for a quick round of golf early in the AM and then meeting us poolside for family time! It was a double-win for him! He also loved visiting the Poolbar for a refreshing beverage while basking in the sunshine! The BBQ area by the pool was great to get dinner going while he could watch the kids continue to swim!
We even had our parents come vacation with us so that they could watch the kids while Mum + Dad snuck away downstairs for a date night at 15 Park Bistro for a delicious meal curated with the finest local ingredients. A perfect way to end the day!
From my children's point of view
The waterslide really was the star of the show! My kids just couldn't get enough! The smile on their faces every. single. time as they rode down the slide was just the best sight a parent could see. They loved that there was also a family-friendly hot tub which we often would sit in as a family and chat about how much fun we were all having!
They also loved going to Boston Pizza (which is attached to the resort) as a family for dinner and getting pizza. It was so nice to not have to pack all the kids up to drive somewhere to eat.
Enter The Giveaway
All in all, we know without a doubt that Watermark Beach a Resort will be our annual summer vacation and our children will grow up with the fondest memories of the most magical place! It's a resort that I'll forever rave about to all our friends and family! Right now I am hosting a giveaway to gift one lucky winner a 2 night stay in a 2-bedroom lake view suite at the incredible Watermark Beach Resort! In order to enter:
That's it!
This giveaway is open to everyone! Contest closes Dec.14th at midnight + the winner will be announced along with all the other "12 Days of Giveaways" winners December 15th.
Good luck, everyone!