The stunning region of the South Okanagan has the perfect landscape and weather to encourage lush growth in the surrounding gardens, orchards, and especially vineyards!
Known around the world as "wine country" for a reason, the South Okanagan is home to a staggering amount of world-class wineries and we've got the inside scoop on all the local favourites. Whether you're looking for a fun night out with the girls or a more prestigious and intimate experience, you'll surely find what you're looking for at one of these incredible Okanagan wineries.
Local Winery: Maverick Estates
Maverick Estates Winery is known for its award-winning wines and stunning local tasting facility found just past Oliver BC. The quaint tasting room nods towards an elegant farmhouse style, and the welcoming interior wows visitors with a grand display as they step inside the front doors. Beyond the aesthetics, this amazing local winery curates delicious wines produced solely from fruit grown on their land. Maverick estates firmly believe in letting the natural flavours of the ingredients speak for themselves, without the use of sweeteners or additives, and prefer to take the slow way when it comes to producing incredible artisanal wines. If you're not able to stop in at their tasting room, you can still try some of Maverick Estates' decadent wines by visiting 15 Park Bistro for some impeccable lakeside dining and vino. We highly recommend a glass or two of Mavericks' Sauvignon Blanc or Pino Gris paired with something bright and flavorful on the menu.
Local Winery: Bartier Bros Winery
Taste the flavors of the Okanagan at Bartier Bros Winery on their immaculate sun-drenched patio or bring a picnic and enjoy a truly immersive wine tasting experience in their specially curated covered outdoor picnic lounge. Sip on sun-kissed notes of Okanagan fruit and glimpse a vision born from two local wine lovers passionate about producing wines and experiences that are true to the authentic spirit of the Okanagan.
Looking for something to enjoy during your Watermark visit? Indulge in a bottle of Bartier Bros Cabernet Franc or Merlot with an expertly prepared meal from our friends at 15 Park Bistro. 
Nothing beats being chauffeured around the South Okanagan to world-famous wineries while enjoying the spoils of the local lands. Watermark has partnered with some of the best guided local wine tour companies who can't wait to show you around. Our concierge can help you decide which tour would suit you best and can help you make the most of your time in the South Okanagan.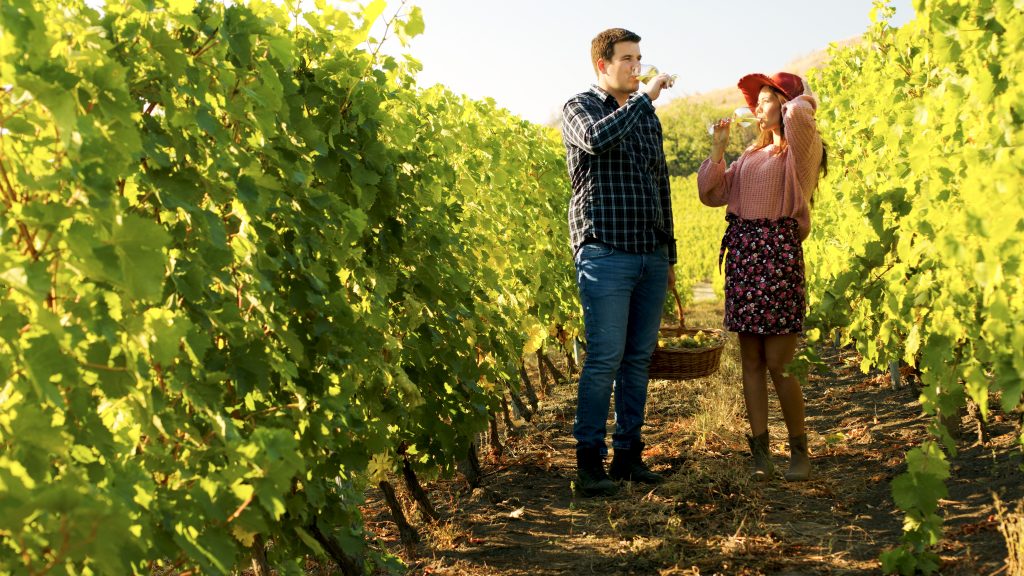 Some of our favourite tours to work with include:
Similar to a thumbprint, each region is made up of unique soils, weather conditions, water, and minerals that work in combination with one another to create an ideal growing environment for geologically distinct tasting wines. Professional winemakers know how to read the region and work with the elements, utilizing their expertise and a great amount of care to craft the incredible wines the Okanagan is most famous for.

Interested in exploring a specific wine district in the Okanagan? Learn about the variations in how these diverse wine-growing districts procure award-winning wines!
Found in our own backyard,
Osoyoos and Oliver
grow over 60% of all wine grapes in the province! Osoyoos winemakers have seen great success growing Merlot, Cabernet Sauvignon, Syrah in the district and Oliver has been successful with their Merlot, Pinot Gris, Chardonnay, and Cabernet Sauvignon varieties.
Similkameen Independent Growers
The steep and rugged mountain-tops of the
Similkameen region
offer locals and visitors alike a visual treat as they make their way into the valley. Nestled in-between the scenic views lies mineral-rich soils and pristine lands for orchards and vineyards to flourish in. The heat of the sun beating down into the valley creates optimal growing conditions, with a cool night breeze offering plants a moment to recuperate before the sun rises once again. Due to the high temperatures found in the valley, the Similkameen district can get even more sunlight than Napa Valley- making this proudly Canadian region an incredible place to curate mouth-watering wines!
With expansive rolling hills and decadently rich soils,
Naramata Bench
creates an impressive variety of microclimates and terriers that have been proven over decades to produce some of the province's best fruit orchards and grape crops. Catering to the terrier of the area, local Naramata wineries produce a vast range of red wines including Pinot Noir, Merlot, Cabernet Sauvignon, Shiraz, and Malbec. Naramatas' Whites have also done well in the Naramata terroir, producing deliciously bright Chardonnay, Pinot Gris, Gewurztraminer, Semillon, and Sauvignon Blanc varieties.
Stretching Northwards along the East Bench of
Skaha Lake
and then all the way South over lush rolling hills to
Vaseux Lake
, you'll find at the heart of the surrounding vineyards. Thanks to glacier deposits left behind a millennia ago,
Okanagan Falls
is home to fertile soils, cool night breezes, and semi-arid desert temperatures, making it an idyllic place to grow vines that thrive! Due to the unique climates found in the area, grapes are able to retain high acidity, making for very flavourful and distinct wines.
Osoyoos is home to some of the best Okanagan wineries in the area and the local wine community hosts annual events to celebrate the delicious varieties that have been lovingly created by local farmers and winemakers.


Half Corked Weekend is back! Kicking things off for the 2021 Half Corked Weekend held during September 10th – 12th is an itinerary of fun activities that take you on a delectable journey through Osoyoos vineyards for the annual marathon event! Join in for a weekend of good eats, great wine, and fantastic views! 

Following Half Corked, is the annual return of the Pig Out Festival Weekend, a truly decadent event held over the weekend of September 24th – 26th. Leaving the event, you'll be filled to the absolute brim with delicious delicacies and unforgettable wines and spirits. Celebrate like a local, and join in the fun!
Join us in celebrating all the hard work that goes into producing your favorite wines
by experiencing the best of the South Okanagans' wineries.


The Watermark family can't wait to hear about your delectable adventures and top recommendations from your experiences. Give our concierge a call today to start planning your ultimate wine-extravaganza or
contact us
to book your stay.
It's always wine-o-clock in wine country!