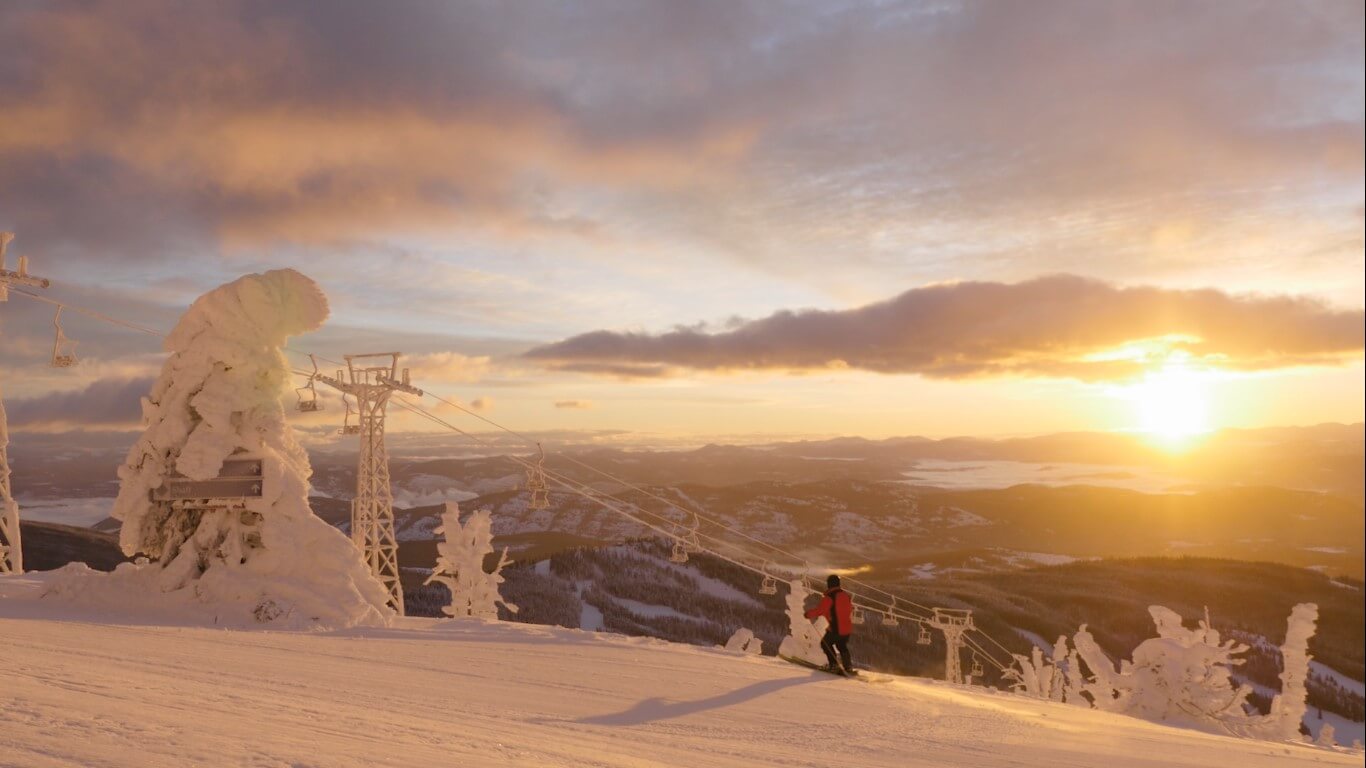 Heigh-ho heigh-ho, off to the hills we go! Now that ski season has arrived in BC, we know that powder enthusiasts near and far are headed to the ski slopes. Whether it's your first time on the hill or you're an annual pass holder, here's why you should check out Baldy Mountain Resort this winter.
Less than an hour's drive from Osoyoos, this exceptional ski resort is a paradise for outdoor winter sport enthusiasts, families and solo adventurers in the heart of the Okanagan Valley.
Read on to discover why Mount Baldy should be on your winter ski list this season
Why Visit Baldy Mountain Resort?
Did you know that Mt. Baldy is the third-highest elevation ski area in British Columbia, with over 600 skiable acres and 35 runs to choose from?
This mountain paradise is perfect for families, as it offers some of the best prices for season passes and lift tickets in BC – children under six get a full day pass for $10 and adults pay only $57. You also won't have to wait long to start shredding, as Baldy Mountain boasts little to no wait times with its short lift lines.
With great prices, short lift lines and a whole lot of snow, Baldy is the best place for a much-needed winter expedition for the whole family.
Plenty Of Winter Activities
As you'd expect from a ski resort, Baldy Mountain has plenty of spectacular trails for skiing (downhill or cross-country) and snowboarding – but did you know that they're opening up their brand-new tube park this season?
If you're travelling as a family, the tube park is a perfect place for the kids to seek out some thrills. Relax with a hot chocolate and watch from the parent viewing area as your kids take on the thrills of the mountain in this brand new winter attraction.
You'll also find plenty of beautiful trails for snowshoeing expeditions in the forest, as well as a championship disc golf course with 18 holes. If you're a golfer who's impatiently waiting for the return of the greens and clubs next season, this disc golf course might just keep you satisfied for the time being!
Skiing & Snowboarding Trails Accessible For All
For the winter sport enthusiasts who have physical, cognitive or sensory disabilities, Baldy Mountain Blue Jays Adaptive Sports offers specialized skiing, snowboarding and snowshoeing opportunities.
With certified volunteers and instructors to assist and adapt to your needs, Baldy Mountain Resort's accessibility makes it the perfect choice for everybody to explore the snowy beauty of BC.
From Newbies To Black Diamond Shredders
Skiing and snowboarding can be intimidating to people that haven't tried it before. Luckily, with the lessons offered at Baldy Mountain Resort, shredding the powdery slopes will quickly become second nature. If you're a family looking to introduce your youngest addition to a life of winter fun, sign them up for one of the Little Shredders lessons, available for ages three to six.
Experienced skiers and snowboarders will find an assortment of trails, two peaks, open gladed areas, iconic snow ghosts, groomed corduroy cruisers and powder stashes to choose from.
The resort is closed on Tuesdays and Wednesdays, which allows the untouched mid-week snow to build up. If you can't make it for a weekend trip, we recommend going to one of Baldy's famous Big POW Thursdays! The two-day build up of powder stashes can be found on the larger of the two rideable peaks, making it the perfect place to start your day with some breathtaking views.
Stay At Watermark, Ski At Baldy!
Plan the perfect winter vacation this season with a trip to Osoyoos, and a leisurely stay at a Watermark condo suite. The weather here is polite during the winters, making it the perfect place to get away from the chills and stresses of daily life.
Make sure you set aside a weekend for a trip to Baldy Mountain Resort. Plan out some lessons if you're a newbie or jump straight into the action if you're a veteran. Remember to try out the new tubing park as well!