The wineries of the South Okanagan don't come to a halt just because the seasons have changed. For many of our the wineries around Osoyoos and Oliver, this time of year is one of transition as they wrap up the harvest, pick the grapes for ice wine, and prepare for the holidays – just like everyone else! In fact, on November 29th and 30th, dozens of local wineries will open their doors and welcome guests to kick of the holiday season in style with the Winter in Wine Country event.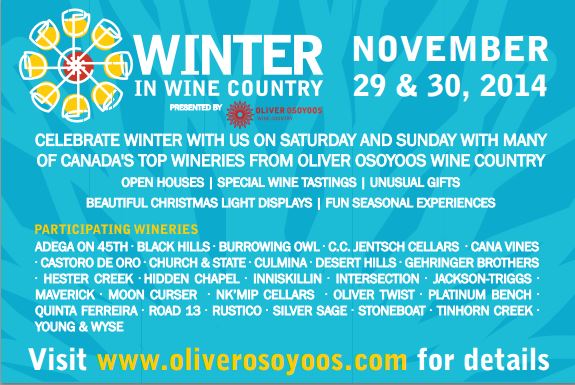 With so many amazing wineries to visit, why not take part over two days and make a weekend of it? There's a fabulous suite available at Watermark Beach Resort with your name on it! Spend the day sampling wines and getting into the holiday spirit. Then head back to the resort, take a stroll along the beach and relax in the outdoor hot tub before you head to dinner at 15 Park Bistro to sip on award winning wines while you eat delicious food. Once you're done, you can make the short trek to your suite, light the fire, and sip on a mug of hot chocolate. It's a perfect winter weekend!
Events for the Winter in Wine Country festivities include Christmas carols, Christmas light displays, crafts, and delicious food. Of course, an event dubbed Winter in Wine Country wouldn't be complete without a whole lot of wine tasting, which will also give you an opportunity to sample new wines and help you pick the perfect bottles for this year's Christmas gifts.
The Oliver Osoyoos Wine Association will be offering the popular "Winter in Wine Country Weekend Passport" this year. This allows guests to collect stamps at the participating wineries. Once you have received 6 stamps, you can enter to win a cash prize! Why doesn't want to be rewarded for tasting wine while getting some Christmas shopping done?
This year, the participating wineries include:
Adega on 45th
Black Hills
Burrowing Owl
C.C. Jentsch Cellars
Cana Vines
Castoro De Oro
Church & State
Culmina
Desert Hills
Gehringer Brothers
Hester Creek
Hidden Chapel
Inniskillin
Intersection
Jackson-Triggs
Maverick
Moon Curser
NK'Mip Cellars
Oliver Twist
Platinum Bench
Quinta Ferreira
Road 13
Rustico
Silver Sage
Stoneboat
Tinhorn Creek
Young & Wyse
Watermark Beach Resort has created a Google Map to help you navigate the Winter in Wine Country participants. You can see it below!
Visit OliverOsoyoos.com to learn more about the Winter in Wine Country event. To book your stay with Watermark Beach Resort, call 1-888-755-3480.